SOUTH DAKOTA HUNTING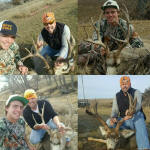 We offer a variety of hunts that include pheasant, sharptail grouse, whitetail deer, mule deer, and antelope. Clients filling big game early can also enjoy hunting small game, (pheasants & sharptails), and fishing the remainder of their stay. Hunting unit is located in North Western South Dakota; it consists of 15,000 acres of private land. The deer and antelope land is in Ziebach County.
It looks like 2021 will be banner year for sharptail grouse and pheasant hunting on the ranch. Hunting these big wild birds in our big country will make for unforgettable memories for you and your companions. Click on "September Sharptail Safari" to read the Northwoods Sporting Journal Article written by Ernie Lantiegne. Where else can you bag your limit of sharpies and pheasants while walking through herds of antelope and mule deer?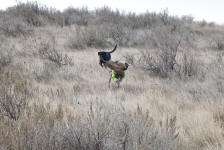 This isn't a driven cornfield hunt in Iowa or Illinois. This is like an African safari - This is an experience. "Sharptails - you may have the best accessible sharptail hunting on the planet..., can't imagine it being any better", (a quote from a happy client).
Call now to book your hunt 605-490-0357.
For those who may want to fly in, the nearest airlines are Rapid City, South Dakota 125 miles, Pierre, South Dakota 120 miles, and Bismarck, North Dakota 175 miles, transportation can be arranged from these areas. If you would like to fly here directly into Faith, there is a paved airport 60 feet wide & 4200 feet long.